David Teng
A Bachelor of Arts graduate from University of Malaya in Malaysia and Graduate Diploma in Marketing from the Chartered Institute of Marketing, UK and also a post-graduate BA from University of Bath, UK. David Teng began his working career in 1985 in number of local and international companies.
David's role incorporates being the General Manager of Decorative Paints India, and being the Cluster General Manager overseeing the Decorative Paints business of all the other countries within the South Asia Cluster (Pakistan, Sri Lanka, Bangladesh, Nepal, Bhutan & Maldives). David has had a successful track record having joined AkzoNobel in 2013 as General Manager Vietnam, and then subsequently as Cluster General Manager responsible for Vietnam, Thailand, Myanmar, Cambodia and Laos.
Prior to AkzoNobel, he has held various senior management and commercial roles with multinational companies in diverse businesses including Beverages, Oil & Gas and Advertising based in several countries in South East Asia. He enjoys travelling, meeting people, reading, nature-trekking, scuba-diving and playing golf.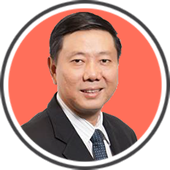 David Teng
Non-Executive Director