Paintex

We all want the best quality but we also want it at a reasonable price.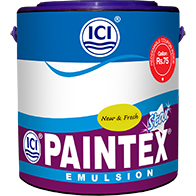 Paintex, our mid-tier paint brand, provides you with an opportunity to enjoy the finer things in life while still spending your money sensibly. Paintex gives you a complete range of exciting color and high quality finishes for all your requirements, at an affordable price that lets you enjoy color without worrying about costs.
Our Paintex range includes the following products:
Paintex Emulsion
Paintex Hi-Gloss
Paintex Putty
Paintex Ultratex
Maxilite
Paintex Sheesha Putty
ICI Hi-Gloss Enamel
Products under the Paintex range include in-can coupons that can be redeemed for cash worth Rs 50-300 depending on product and pack size.