Decorative Coatings
From Brilliant Ideas to Brilliant Paints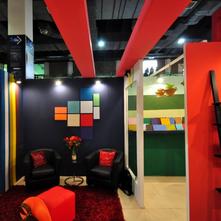 As part of one of the leading coatings company, we believe that colour has the power to change people's lives.
We have been coloring Pakistan for over four decades with many generations growing up knowing our brands such as ICI Dulux and ICI Paintex as household names. With such extensive experience of knowing our customers' needs, and armed with sophisticated technology and expertise acquired from being the world's leading Paints and Coatings Company, we are rightfully considered the "colour authority" in Pakistan. Whether our customers are home decorators or institutional owners, they still want paints and coatings that provide a great colour impression and a finish that lasts. Our decorative segment supplies full range of interior and exterior paint products. What sets us apart in the rapidly burgeoning competitive landscape in Pakistan today, are the quality solutions we provide to our customers which come from an in-depth understanding of their needs.
ICI Dulux, a brand by AkzoNobel, is the world's leading brand of premium quality paint. Drawing on a keen understanding of our markets' needs and latest technologies, we aim to enrich people's lives by bringing visual delight and lasting care to their surroundings. ICI Dulux is the pioneer of Tinting Systems in Pakistan under the label of ICI Dulux Colour Solutions which offers over 2,000 shades available over all over Pakistan at designated dealer outlets. ICI Dulux offers a complete interior and exterior painting solution, starting from the initial stage of surface preparation and ending with the last coat of paint of your favourite colour. Colour consistency and quality is our forte and our customers can be confident that the colour they bring home is exactly what they paid for.
As the world's leading paint manufacturer, we realize that a sustainable business needs to be responsible. In 2013, we launched an eco-friendly product, ICI Dulux Inspire Emulsion. The paint has near zero volatile organic compounds (VOC's), is odour-less and is NPE (Nonylphenol Ethoxylates) free. With the wide range of trendy colors, superior matt finish and high washability, this luxurious product will be found on most walls in your home. This follows our break-through launch of ICI Dulux Weathershield SunReflect, an exterior paint that reflects sun light making the exterior walls upto 5 degrees cooler.
Committed to sustainability, ICI Dulux has converted all water based products under ICI Dulux umbrella to being Low VOC and NPE/APEO Free; which is harmful to the aquatic environment, a benchmark unmet by any other paint producing company in Pakistan.
Innovation and Sustainability
The most recent innovative additions to the ICI Dulux range is ICI Dulux Light & Space, equipped with Lumitec Technology that makes smaller living spaces look brighter and bigger, ICI Dulux Weathershield Roof, a paint for the roof which reduces the roof temperature by 7oC, ICI Dulux Weathershield Water Repellent, an invisible protective barrier against moisture for unpainted surfaces, and ICI Dulux Wood Care Stains and ICI Dulux PU Lacquer to complete the Wood Care range.
Our mission
Our mission is to add colour to people's lives. We believe that colour has power to change people's lives and we aim to use this transformative power of colour to bring about improvement. While our products add colour to surroundings, our people add colour to other people's lives by contributing their time. They go out and paint schools, spend time mentoring students with limited opportunities and arrange skill development programs that equip people with livelihood skills and enable them to be economically empowered.